Philipp Offenberg (Breakthrough Energy), Eric Dresselhuys (ESS) and Thorsten Kramer (LEAG) about scaling up iron flow technology for long-duration energy storage
This article is the second in a series of posts on fostering energy resilience in Europe. The first article in the series can be found here: Fostering Energy Resilience in Europe
In early 2023, in response to Europe's need to rapidly decrease demand for natural gas, Breakthrough Energy teamed up with Siemens Energy to launch the Energy Resilience Leadership Group (ERLG). The purpose of the initiative is simple – to bring together people who can collaborate to rapidly bring climate technologies to scale.
Demonstrating the power of partnership, the ERLG resulted in its first project last month when U.S. energy storage technology manufacturer ESS Tech, Inc. and German energy provider LEAG announced an agreement to scale up iron flow technology to provide long-duration energy storage. The project is expected to catalyze the sustainable transformation of a major German coal mining and energy generation region. It will help eliminate 50,000 tonnes of coal annually which will in turn eliminate 20 million tonnes of CO2 a year.
I sat down with ESS CEO Eric Dresselhuys and LEAG CEO Thorsten Kramer to learn more about the ambitious project.
Philipp, Breakthrough Energy:
We look forward to partnering with LEAG to develop the model for utilities and communities worldwide transitioning from coal to clean, renewable energy. The deployment of renewables and long-duration energy storage will not only deliver reliable, clean energy to effectively replace the baseload power currently provided by coal, it will deliver economic opportunity and a cleaner environment for Germany.
Thorsten, LEAG:
This mining region offers transformative opportunities for the clean energy transition – gigantic power plant sites and high-voltage infrastructure provide the connection that is needed when it comes to scalable storage projects. The Boxberg storage site is planned to be directly fed by one of Germany's biggest Wind-and PV-Parks called Gigawatt Factory so we have a historic chance to close the gap of a 100% green energy supply chain to create a green baseload system.
Eric, ESS:
Thank you, Thorsten, for your partnership and Philipp, thank you for the important work that Breakthrough Energy and the Energy Resilience Leadership Group have done to drive decarbonization and the transition away from natural gas in Europe. To your question, the Boxberg site provides a blueprint for the clean energy transition by ultimately replacing coal generation with green baseload power, provided by renewables, long-duration energy storage and hydrogen.
Iron flow technology is well-suited for the long-duration energy storage component of this system. In addition to providing needed intra-day storage capacity, iron flow batteries (IFBs) are manufactured using earth abundant minerals and relatively common components. Energy security has become a central concern following the Russian invasion of Ukraine, which highlighted the risks associated with outsized reliance upon any one country or region for energy. The broad supply chain for iron flow technology avoids these risks, providing a secure, resilient foundation for a renewable grid.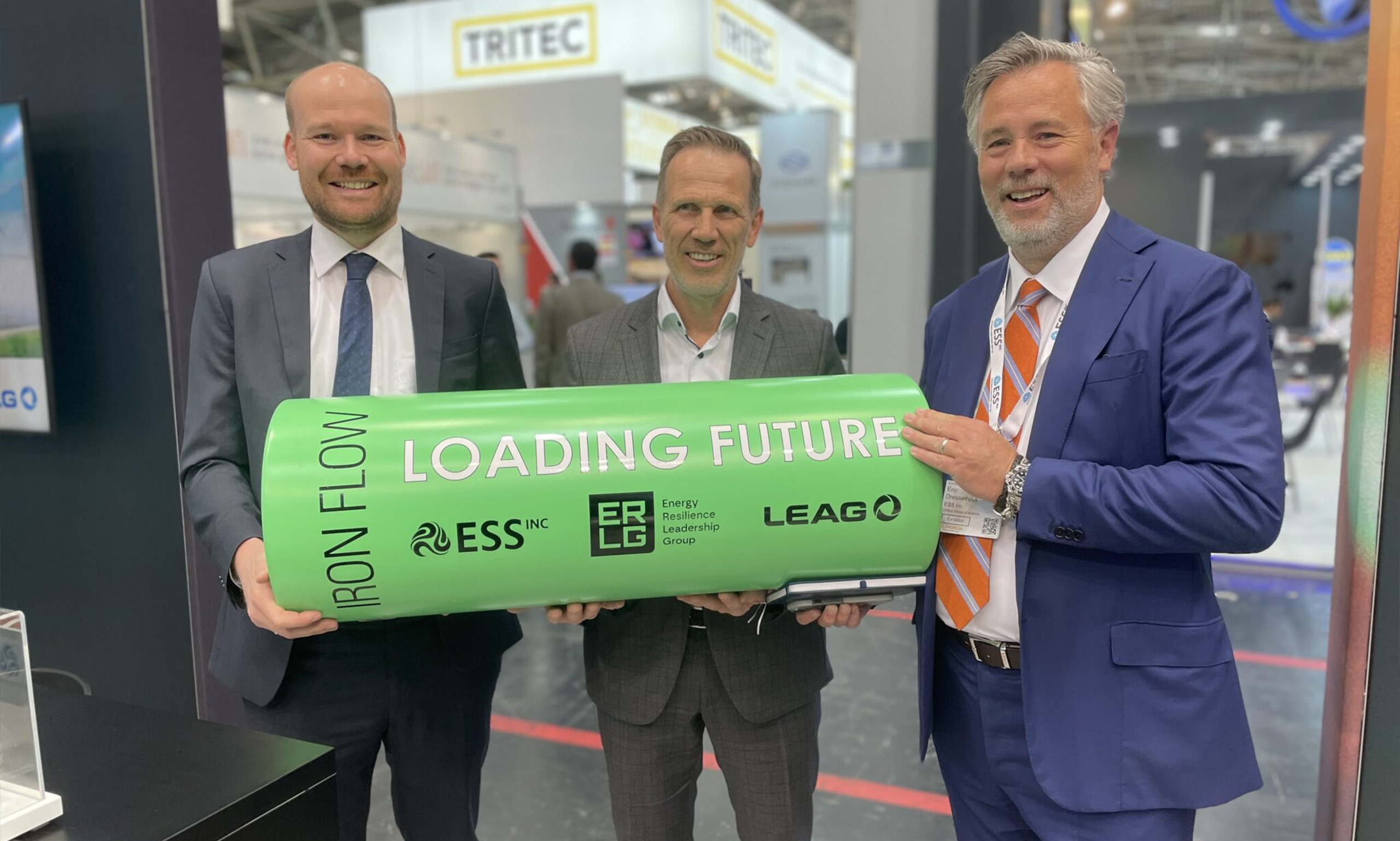 Philipp:
The Gigawatt factory is set to be the biggest renewables project in Europe, alongside the largest energy storage project in Germany. Are there projects of a similar scale anywhere else in the world?
Eric, ESS:
The storage element of this development alone is larger than any battery built or announced in Europe. The significance of this battery is not just its size, but rather its function. For the first time in Germany, storage is being used to entirely replace the balancing function typically carried out using natural-gas powered turbines. The project is therefore the first of its kind to provide true 24/7 green energy by combining renewable generation with a fully zero-carbon alternative to natural gas. LEAG has carefully thought this through, combining short duration batteries with ESS iron flow and hydrogen to cover the entire spectrum of storage needed to provide green baseload power.
Philipp:
What are the commercial opportunities for green baseload power in Eastern Germany? Who do you anticipate will buy all that power?
Thorsten, LEAG:
Long-duration energy storage is a key technology when it comes to phasing out the fossil-baseload supply infrastructure. This project is a real breakthrough that will be a force for German energy turnaround.
Philipp:
It will make a huge impact on the local economy. I'm sure there will be people reading this wondering if the model be replicated in other coal regions?
Eric, ESS:
That is certainly the goal. Today, coal accounts for ~20% of the electricity generated in Europe and over 230,000 people1 still work in coal mines or coal-fired power plants across the EU. To meet climate targets, most, if not all, of these will need to be retired, and these retirements will inevitably have economic implications for surrounding communities.
This project will not only enable the transition to renewables at Boxberg, but it will illustrate a path forward for coal-dependent communities across Europe through investments in and opportunities from new clean technology manufacturing and deployment.
Philipp:
What do you think this project will mean for the future development of LDES technologies in Europe and globally?
Eric, ESS:
The word "transformational" is over-used, but it is apt in this case. The planned deployment of 7-14 GW of renewable generation and 2-3 GWh of energy storage will drive the establishment of new industries in the region and support decarbonization across Europe. Today, we know there is considerable need for LDES technology in Europe, but the supply chains that will meet this need are not yet mature. By establishing a plan and providing visibility into future demand, this project will support supply chain development, demonstrate the critical role that LDES will play to deliver green baseload power, and create economies of scale. Once operational, this will also enable those utilities seeking to follow LEAG's lead to gain hands-on learning about LDES technology and understand how it will function with their systems.
This project is designed with scalability in mind. The first phase will establish a 50 MW / 500 MWh "building block" of energy storage which is intended to be easily replicated elsewhere, enabling and accelerating the transition to clean energy.
Philipp:
My final question is about the Energy Resilience Leadership Group. As you know this is the first project to be announced. Why was it important for you to join this group?
Thorsten, LEAG:
The preconditions for this project seemed to be great, but we needed the ERLG to spark the technology breakthrough. Thank you for heading this initiative!
Eric, ESS:
All infrastructure projects are complex and require the support of multiple parties. The ERLG is playing a key role by convening stakeholders and educating policymakers about the need for emerging technologies, such as LDES, and the strategies and reforms that will enable its deployment. We are pleased to partner with the ERLG in this work to support the creation of a secure, sustainable European energy system.
By Philipp Offenberg on July 24, 2023